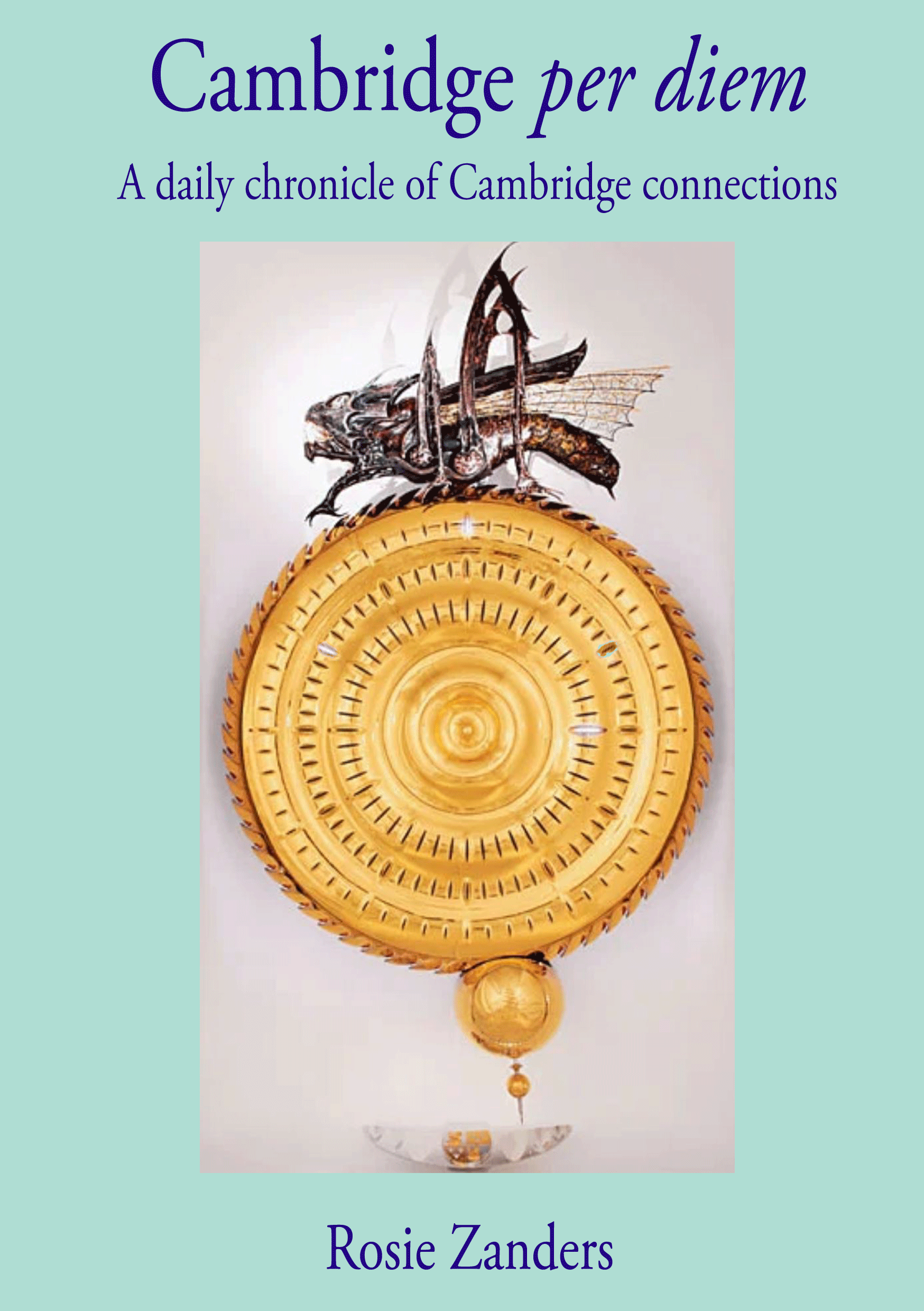 Product details
Paperback: 284 pages
Language: English
ISBN: 978-1999705916
Publisher: Merak Publishing, 2021
Price: £12.99
Drawing on many years' experience as a Cambridge Blue Badge guide, Rosie Zanders has assembled an eclectic mix of Cambridge-related anniversaries, at least one for every day of the calendar year. The author hopes that this book will afford readers some new insights into Cambridge and its inhabitants, both past and present, encouraging further exploration of the city.

'The real voyage of discovery consists not in seeking new landscapes, but in having new eyes' Marcel Proust

Particular thanks are extended to Dr John C Taylor OBE, creator of the renowned Corpus Christi clock, for supplying the wonderfully appropriate cover image. The clock is topped by a fearsome time-eating mutant grasshopper, the Chronophage, which very publicly devours minutes as they pass by all too quickly. There could be no better illustration for a book which focusses on Cambridge time.


Recent Reviews

From Varsity magazine 29.4.22:
"…it succeeds gloriously at illuminating the twists and turns of the eight centuries which Cambridge has spent as a university city, proving exactly why the city is known as such, without neglecting the many other kinds of human stories lurking underneath this scholarly surface." "Cambridge per diem is a brilliant read."
Follow this link to read the review in full.

From Amazon:
"Cambridge is one of my favourite cities and this lovely guide, a 'daily chronicle of Cambridge connections', written by Blue Badge Guide Rosie Zanders, is the perfect companion. It's something to be enjoyed while visiting Cambridge and there's a timely entry for each day of the year. A perfect book to dip into and learn more about the fascinating city, to make the reader better informed for their next visit."

"Being born and brought up just outside Cambridge and having attended school there, I thought I had a pretty good knowledge about the city and its connections, but Cambridge per diem has shown me otherwise! I acquired it over the Christmas holidays and it now sits on my desk so that I can delve into it each day before I start work. I'm finding it absolutely fascinating. This brilliantly researched book contains so many wonderful connections and intriguing details about my home turf. Each day now I look forward to discovering new golden nuggets about the places I know and love, but never knew before!"

"What a wonderful book. Perfect as a gift and is a great a 'pick-me-up, put-me-down' book which can be enjoyed every day. Filled with fascinating information which isn't too heavy to read. Beautifully written."

"This book is a charming array of stories and insights into Cambridge, that will enlighten even those familiar with the city (I thought I was!). It's also very easy to dip in and out of, with little vignettes and stories that give you extra insights for when you're walking around yourself. Highly recommended!"